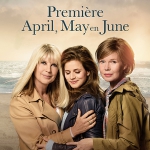 April May June
Drie halfzussen April, May en June horen dat hun moeder Mies doodgaat. Now what. Met oa. Linda de Mol, Olga Zuiderhoek & Jeremiah Fleming als De Mol's echtgenoot! | watch video »
Welcome to the Jeremiah Fleming website,
Originally from San Francisco, Jeremiah Fleming has worked extensively in the Netherlands as a professional, bilingual actor for many years. His wide range of work includes everything from acting in feature films and television, doing voice overs, storytelling in schools and private functions, performing in theater, hosting events and giving live product presentations to working as a co-trainer and trainer in corporate trainings.
In film you can find him playing opposite William Hurt in Do Not Disturb or Linda de Mol in April, May, June. In television you can find him playing opposite Monic Hendrickx in the television movie Hope or appearing on Studio Snugger & Top 2000 A Gogo.
Jeremiah has lived in four different countries, speaks three languages and communicates easily with people of different cultures and backgrounds.
See, hear or read more Jeremiah!